Boy oh boy, again almost half a year passed without a post. And the trip I'm posting about also already took place two months ago. Having a life really cuts into my blogging time......
In case someone still remembers an announcement about writing something concerning my trip to Hong Kong in February (!), forget it. I'll go there again sooner or later, as it's always a nice retreat from Northeastern Chinese winter. Don't really wanna think about that the next one is about to come again already - it will be my third. Time flies.
On October 1st, 1949, Mao Zedong proclaimed China a People's Republic. This is celebrated every year by a whole week of National Holiday in the entire country starting from that date. Well, actually it´s just three days, as two days of that week are compensated by having to work the sundays before and after the holidays.
It's pretty common in China - a holiday is actually just one (or in case of the 1st October, 3) day(s), but to enable people to visit their friends and relatives back home or go on short trips in this vast country they make it three (5) and cut those two additional days out of weekends before and after. Get's you out of your work rythm entirelly on a regular basis. But not the topic here :-)
Since I'm living in China I have a list of countries in Asia I'd like to visit while working in Shenyang, for it's naturally quicker, cheaper and far more convenient to go than back from Germany. And Japan has been on that list for a long time.
9 days is a long enough time to do a trip outside of China, but not really long enough to see all of Japan (unless you really wanna scat through the country,and I'm too old for that kind of travelling), so there was the decision to make where to go - Tokyo area on Honshu, or a decent nature & hiking trip to Hokkaido (among probably a billion other options in this country). It became the latter. And it was a good choice.
We arrived on Hokkaido via
Sapporo
, the biggest city on the island with about 2 Mio. people, and stayed there for the first and last two days. Real architectural highlights are a bit scarce in this town - except maybe the TV tower, that looks like an Eiffel tower with huge digital watch:
A big, yet pretty laid-back town, and as we´re used to Chinese cities, it appeared extremely calm and clean, despite the fact that there were even less trash cans than in Shenyang. I literally didn't see one the first day.
Also interesting - the entire city center is one big smoking-free area, where smoking is only allowed in little separees, similar to airports. In these little huts one can find posters explaining why smoking is bad. Even in English. And cigarette commercials.
When we first arrived at night in Sapporo, we each lit a cigarette on our way to the hostel. As we discovered the no smoking signs on the pavement, we looked around and saw no one else smoking. A little embarassed, we tried to put out and throw away the cigarettes, but couldn't find a trash can - and there was no litter or any cigarette butts at all on the floor....
Aaaaaanyway, the second day we had a stroll to
Mt. Moiwa
, a mountain adjacent to the city, giving you a great view over the very same. At the top couples hang locks as a sign of their eternal love - although a strange thing was that a mentionable amount of them seemed to also have left the keys. Probabyjust in case...
view over Sapporo from top of Mt. Moiwa
After another day in Sapporo with the visit of an autumn food festival in the central
Odori park
(a lot of german food stalls with Bier and Bratwurst, actually.....)
a Bratwurst stall at the Sapporo food festival
we went on to target destination for this trip. A little less than two hours on the train to Asahikawa, and then from there little more than two hours on the bus
,
and you arrive in
Sounkyo
, a tourist village in the heart of
Daisetsuzan
, the biggest national park in Japan.
from Sapporo to Sounkyo
It's in the central highlands of Hokkaido and a paradise for hikers, consisting of mountain plateau and surrounding forests with heights up to 2500m. This region advertises itself as "roof of Hokkaido". It's also famous for its hot springs, that bubble up everywhere due to volcanic activities beneath the surface- virtually every hotel in Sounkyo was equipped with a hot spring area to dip in.
Mt. Kurodake
(1984), and then can hike on the plateau to other mountain peaks. That was our goal for our first entire day in the park, the 4th of our trip in total. The day we started discovering the beauty of Daisetzuzan.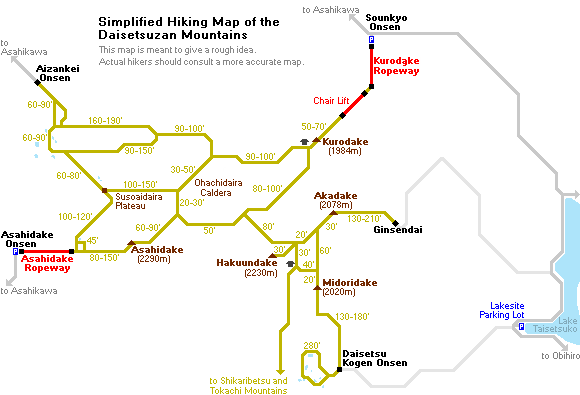 Up Mt. Kurodake and Mt. Hakuundake
The first part was simple, as you have to gain elevation up to about 1300m from Sounkyo to a first station on Mt. Kurodake via a ropeway.From there one can choose wether to go on with a chairlift to 1500m before you start hiking up a steep trail to the top in 2000m, or already take a steep, dried out but still slippery river bed as a trail to that station. We and a friendly Chinese were so young and foolish to do that - we were the only ones.
Advice once you're out of the first station
Hiking the dried out river bed between the two stations...
...instead of simply taking the chairlift.
close to the 2nd station (in the background)
After about an hour of straight hiking the 2nd station was reached. A little break and on we went, discovering that the path up to the mountain wasn't really different than the one between the two stations - you basically keep on hiking over rocks, with the level of steepness increasing on the way.
And that was by far not the best part. After about one more hour, we reached the top of Mt. Kurodake. It's a great feeling to be above the clouds...
But the really amazing view was the one towards the plateau - the rough climate in 2000m height let nature paint a beautiful picture in all colors. Paired with a then blue sky and white clouds, this landscape was the most beautiful I've seen so far right after the Australian Outback.
And to bring this post to a close - us happy on top of Hakuundake mountain.
Part 2 will be about walking through the beautiful autumn forests of Daisetzuzan, as well as hiking up yet another mountain. And the unfamiliarity with Japanese food, dinner and washing rituals.